March 2020 IMAGES
Karen and I went to Goldwater Lake to photograph Eagles. They didn't show up but other birds gave us some opportunities. You will see the Goldeneye duck. https://en.wikipedia.org/wiki/Goldeneye_(duck) and the Great Cormorant https://en.wikipedia.org/wiki/Great_cormorant. Blue Herons and other birds that were there for us to enjoy.
Karen captured a neat sequence of the Goldeneye diving, surfacing, and then enjoying a crawdad for his breakfast. Another sequence is of a landing near a fisherman who seemed oblivious.

The one eagle photo was taken in February when my friend Brad and I went to the lake in February. We were a bit too far away to get good photos, at least with my camera. There are two eagles in the photo shown here. The adult is flying below a juvenile perched above. Can you find the juvenile.?

Some Birds on Goldwater Lake
Image Captions
1 Goldwater Lake from the air
2 Great blue heron in morning light
3 Adult and juvenile eagles
4 Female mallard looking good in morning light
5 Great blue heron watching cormorant fly by
6 Take off
7 Goldeneye with breakfast he just caught
8 Goldeneye zoomed in to show breakfast
9 Same goldeneye
10 Same goldeneye zoomed in so you can see him blinking and get another look at the crawdad
11 Nice wing tip dip on water - Cormorant
12 Great blue heron flying fast and low
13 Old man of the lake.


Cormorant doing a near vertical landing
The fisherman was talking to a friend and never saw the cormorant coming. I wonder if the cormorant knows there may be fish when there are fishing poles in the water.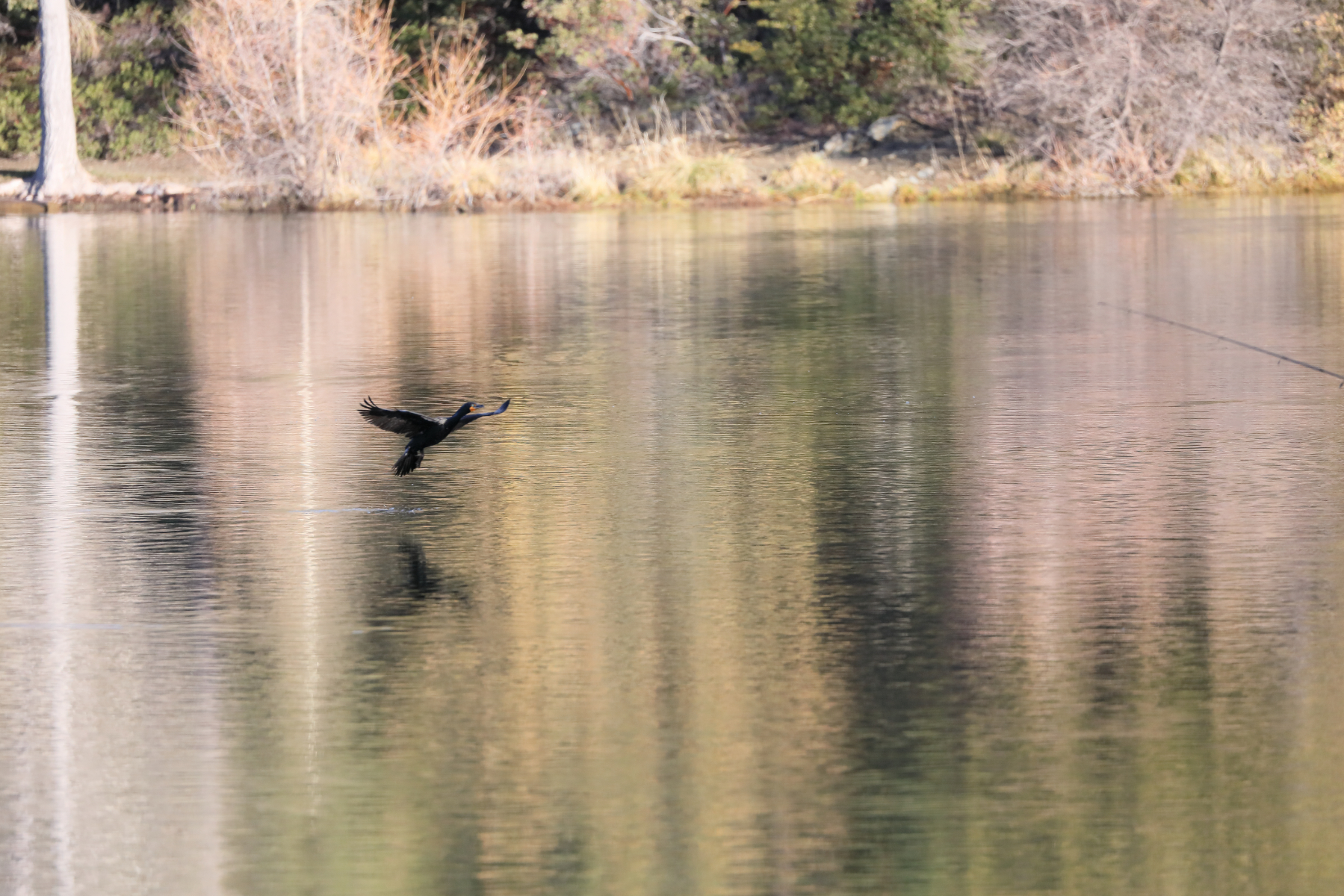 Content protected by copyright.
Not all months have images. I'll fix this sometime.